The Gerald F. Berlin Awards for Creative Writing will be presented on April 28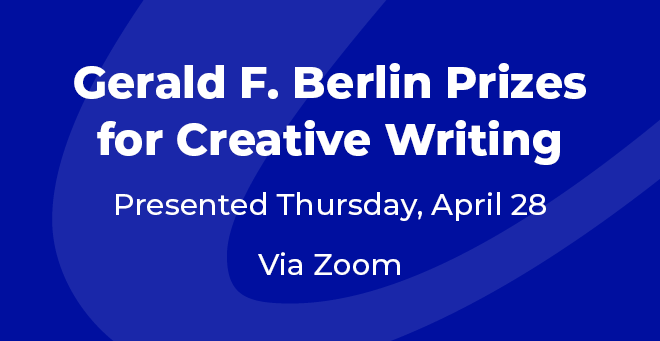 The 18th Annual Gerald F. Berlin Awards for Creative Writing and Readings will take place remotely on Thursday, April 28 at 6 p.m. The awards are given for creative writing, prose and poetry by medical, nursing and doctoral students, as well as residents and fellows at UMass Chan Medical School, Berkshire Medical Center, Worcester Medical Center /St. Vincent's Hospital and Baystate Medical Center.
The awards are sponsored by the Humanities in Medicine Committee of the Lamar Soutter Library and funded by a donation from Richard M. Berlin, MD, instructor in psychiatry. Dr. Berlin, a widely published poet and practicing psychiatrist, created the competition to encourage thinking through creative writing among those studying medicine and to honor his father who was battling a serious chronic illness.
First place winner Dhanya Kumar will receive $100 and her article will be published in Worcester Medicine and The Interstitium. Second prize winner Sean Boyden and third prize winner Lucy Xu will also have their articles published in The Interstitium.
The Interstitium was started as a capstone project of TH Chan School of Medicine in 2019. It is a blog that serves as an online media home for members of the UMass Chan community to reflect on their experiences.
David Hatem, MD, professor of medicine and co-chair of the Humanities in Medicine Committee, will act as master of ceremonies. Dr. Berlin will present the genesis and history of the prizes, followed by the winners reading excerpts from their work.
Attendees can join this year's event via Zoom; prior registration is not necessary.
Winners of the 2022 Gerald F. Berlin Prize:
Jackpot: Dhanya Kumar, third-year medical student, for heart failure
Second prize: Sean Boyden, third-year medical student, for Simple tasks
Third Prize: Lucy Xu, a third-year medical student, for The right kind of pain
Honorable mentions:
Zachary Cartun, second-year medical student, for The pawn
Atinuke G. Oyinbo, PhD student, for The child is wealth
Megan Hansen, third-year medical student, for Depth
Jan Sjoquist, third-year medical student, for Hotel Uterus
Irina Radu, MD, postdoctoral researcher, for Ode to the mask
Kasturi Biswas, doctoral student, for Mermaid and the Broken Mirror
Collin Leibold, second-year medical student, for Soft ball