Brave New Play Rites returns in honor of Bryan Wade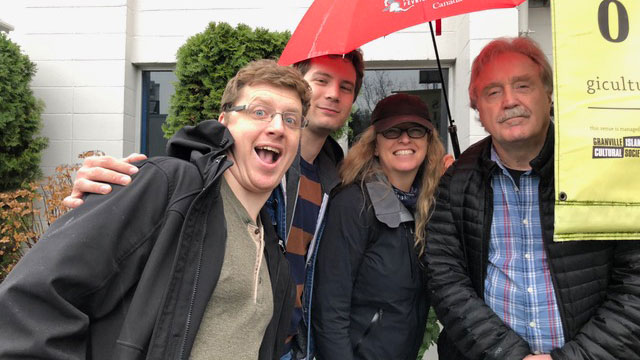 After two years of online pandemic performances, Brave New Play Rites returns to theaters for its 36th year!
From March 22-27, catch seventeen new plays at the NEST on Granville Island. Ten plays will premiere as full productions and seven plays will premiere as part of the Staged Reading series. Audiences will be treated to a range of voices and genres – comedies, dramas and solo shows.
Brave New Play Rites is the oldest new play festival in Western Canada, and this year's festival is dedicated to its founder, Professor Bryan Wade. Wade was actively overseeing the production of this year's Festival when he died in early February. His loss was deeply felt in UBC's creative writing community.
"When Bryan first came to the creative writing program in 1986, he had a simple idea: get playwriting students to write short plays as part of their course. Bryan took these pieces off the page and put them on stage. There's no better learning experience for an emerging playwright than witnessing their work in production in front of a live audience. Bryan has made it a possibility for many students," says speaker Sara Graefe, the Festival's new academic advisor.
Brave New Play Rites has produced over 550 short plays; the second and third productions of Brave Scripts have been staged in New York, Toronto and Scotland, and many festival alumni have gone on to become prominent members of the Canadian arts community.
This year's festival is filled with exciting new plays: a young autistic teenager dreams of an alien world; two strangers meet on a plane and yearn for love, and Frankenstein's monster travels to the afterlife in an attempt to earn a place in heaven. Wade himself co-curated the festival lineup and was particularly proud of the student plays the Festival is presenting this year.
Tickets for full productions and staged readings can be purchased at Brown Paper Tickets ($20 for general admission and $15 for students, admission by donation for staged readings). Full productions run from 7:30-9:30 p.m. March 22-27, 2022. Staged readings are both afternoon matinees March 26-27 at 2:00 p.m. Masks and vaccination passports are required for entry to all events.
For more information, visit bravenew.ca.